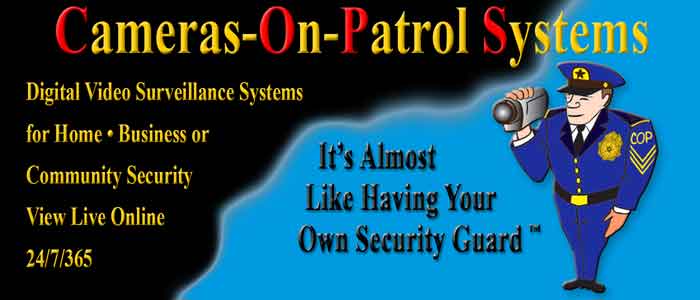 Theft Deterrent
Use outdoor lighting to deter criminals from coming on your property.
Added security
Be sure the doors to your residence or office has a deep deadbolt and metal plate to secure the door in the frame. Many break ins happen in the middle of the morning when most people are at work, criminals can just kick in a door and break the non reinforced wood door frame.
Frequently Asked Questions
FAQ's
1. Do I need to have Internet working at my house when you come for a demonstration?

No, our demonstration case has its own network equipment to run the video cameras and DVR for our presentation. We do need a space on a table that can support our case and camera display. We'll also need to connect to your power with our extension cord.

2. Do you do exterior camera installations?

Yes we do exterior installations. When we arrive we walk around property and hear your concerns and evaluate your needs. We are promoting a basic system that can be used to view the exterior through your windows. But we can quote any level of installation that you want.

3. What type of warranty does the equipment carry?

We are authorized dealers for all of the equipment we install, that means we stand by the manufactures warranty, and provide free labor to replace any part that fails* for 1 year. Be careful, many manufactures do not accept warranties for cameras purchased at the lowest priced non authorized online retailers
4. Do you provide a service contract or time period on the COP System you install?

After your first year we can provide service on an as needed basis. Your equipment should last many years if you do the basic user maintenance that we recommend

5. How long from the day that I agree to purchase a COP System will it be before the installation is completed?

We will be better able to tell you when we meet about your system, our goal is less than 2 weeks from your order. We are fortunate to be busy, and demand on these products from installers nationwide can require waiting on manufactures supply of some equipment to the market.

6. How will installing a COP System effect my TV and Internet?

There is no effect on your televisions; our system uses computer networking, and the Internet to connect the DVR that records the various cameras for viewing. You must have a DSL, Cable, or other high-speed Internet connection. Some clients connect their large screen TVs to the DVR or Internet so they can view the cameras with a click of the remote. We can help you set up your TV with a network connection so you can view anything offered online with your TV.

7. Are there any hidden fees that will be added during installation?

No, once we agree in a system that meets your needs we will provide a copy of the order listing all of the equipment, and what work we will provide to complete the installation. Some installations may require the services of a professional electrician, carpenter, or other licensed professional.

8. Do you provide a smart phone as part of the COP System?

No, smart phones can be purchased from dealers. There are App's for every brand phone, and we give you all of the set up information you will need to enter in the App to connect to your cameras.

9. Your brochure offers a 2-IP camera system, what if I need a 3, 4 or more camera system?

We will first discus your needs when we arrive and survey your property. We will then be able to better tailor our demonstration to address your specific situation.

10. Will I have to call you to restart the Cop System if there is a loss of power at my house?

No, the system is designed to reconnect when power is restored. There are times when you may have to re-cycle the power on cameras.
Check these links for more information about COP Systems equipment to watch your property
5 Good Reasons Not To Buy A System at the Big Box Store
Watch over your family, home, and business
407-243-8564