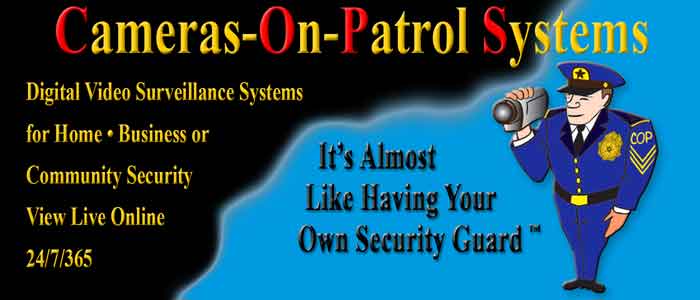 Let Experts install your system
COP-Systems has years of experience with commercial customers. Let our experts do the work for you.
Visual Proof
A security camera may help settle costly disputes with customers, vendors, and inspectors, as well as documenting productivity.
5 Good Reasons Not To Buy A System at the Big Box Store
Reasons Not To Buy A Security System-In-A-Box at the Big Box
1 Technical – usually these systems are manufacturer specific so they only work with parts made by the same manufacturer. Can be a problem when replacing connectors, DVR or a damaged camera.
2 Hidden Costs – requires some expensive specialized tools like a 48" drill bit for drilling through headers in your home's walls and fish rod to pull the wires down from the attic for each camera.
3 Expertise – the typical do-it-yourself homeowner may not be qualified when it comes to drilling through the walls and outside of their home through to the attic – watch out for those electrical wires and pipes! Have you allowed money in your budget for a carpenter, electrician or emergency plumbing services?
4 Quality – boxed systems usually have low cost low resolution cameras that produce a lower quality image. These cameras often fail and replacing them can be an adventure in futility!
5 Results – The actual image recorded on your inexpensive DVR of a criminal event may not be of sufficient quality to provide an accurate image suitable for prosecution. The manufacturers typically don't list the recording resolution with the specifications. Cheap DVR's typically record video only ¼ the size of the 1953 standard analog TV image, which was eliminated by the FCC 1n 2009, for broadcast use.
Watch over your family, home, and business